---
---
EPISODE I
Why photography ?
---
Rose Shoshana,
Rose Gallery



Dear Valérie,

Today I have been thinking quite a lot about photography as I'm working on a project for a women's initiative that is about race and gender inequality. The idea came to me to present the works of Leni Riefenstahl accompanied by text by Susan Sontag, who wrote about Riefenstahl in 1975. So, what do I have to say about photography today: For many years we have been discussing the concept of photography as propaganda.
I can think of no better example than the works of Leni Riefenstahl, a complex and fascinating woman who many view as a brilliant photographer and film maker. Riefenstahl is best known for "Triumph of The Will", the propaganda film she made in 1935 for Hitler and the Nazi party. Riefenstahl also directed 'Olympiad', a film about the 1936 Olympic games which took place in Berlin.
She has been noted for her groundbreaking cinematography and her obsession with the perfection of the human body. "I am fascinated by what is beautiful, strong, healthy, what is living. I seek harmony", she was quoted in an interview in the 1970'.

Leni Riefenstahl,
Olympia
, 1936.
Leni Riefenstahl Team, Berlin, Olympia, 1936.
Leni Riefenstahl,
Die Nuba,
1973.
_
In 1973 Riefenstahl traveled to Sudan to make photographs of the Nubian people. Now her fascination with the perfection of the human form was directed toward the most beautiful and dazzling of the Nubian men and women whom she photographed with great delight.
I've been for many years fascinated with Riefenstahl's photographic and film works.
She understood so well that her images of the athletic healthy body complimentperfectly with the ideals of National Socialism. There is the great father, Hitler, who will lead the people, but only the perfect ones, to greatness, to achieving the perfect state.

Leni Riefenstahl,
Olympia, 1936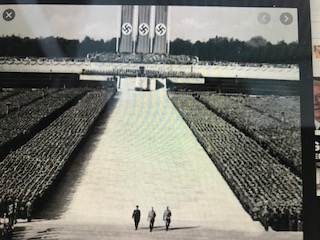 Leni Riefenstahl, Nuremberg Rally, 1935
_
from : Rose Shoshana


to : Savage
date : 16/07/2020
Hello lovely Valerie,

We are living in a most interesting time. Covid 19 , horrid as it is, has drawn back the curtain of so many important issues in our collective society. The disparity between race and gender inequality is foremost on our plate. But it is not only the white male patriarchal privilege...it is also about white women and how 'we' have , not only benefited but also promoted and have actively participated in this system that has benefited us. How does this relate to the question of my thoughts about photography? I have in many years 'performed' as an founder of a gallery that has shown a myriad of artists whose works I found meaningful to me. I did not consider gender or race as I focused on the works that I felt passionate about. At this moment I am questioning everything. I believe the young generation of photographers and curators need to step up and take over. I want to be a conduit for the big change that is taking place and make possible for young new voices to be heard. I wrote to you yesterday about Leni Riefenstahl. She is a woman who I have been thinking about for many years.

why? Riefenstahl understood the power of photography and film. She took every advantage she could to make beautiful images that perhaps she did not realize at the time, but propagandized and stimulated the National Socialist

movement in Germany and led to success of the Third Reich. The question about Leni has always been....can we appreciate her talents as an artist knowing that her works promoted ideals that led to fascism at its most deplorable outcome for humanity?


from : Rose Shoshana


to : Savage
date : 17/07/2020
Hello dear Valerie,

I still haven't come to the point. I 'm writing as I think and that is not perhaps that productive for what you're looking for.

What I am thinking about photography today is that it is shifting and transforming in a way we could not have imagined six months ago. As we have seen from the images taken of the protests around the world in the last two months, following the murder of George Floyd, documentary photography is taking center stage and is being utilized as a tool for change. Just as Dorothea Lange's photographs helped shape the policies of the United States government by creating jobs for the jobless, so are the images of the racial inequality and disparity in this country made today, documenting a time of change. We are in the midst of a great social upheaval and photographers are at the frontline. Looking back to the 1930s, Leni Riefenstahl, one of the first to grasp the importance of photography, usurped it to make works that aggrandized theNational Socialist Party and helped bring The Third Reich to power.

At the same time, across the Atlantic, Dorothea Lange, also understood the power of an image and made certain that her images got into the hands of government officials who had the power to create social programs and assist the hungry and jobless folks during the Great Depression.


from : Rose Shoshana


to : Savage
date : 18/07/2020
David Raymond,
collector


Surreality…collecting and shifting

Andre Breton, wrote "I believe in the future resolution of these two states, dream and reality, which are seemingly so contradictory, into a kind of absolute reality, a surreality, if one may so speak" in his Surrealist Manifesto in the 1920's.

For those of you that do not know me, I have been drawn to collect surrealist photography for the last almost 30 years. The images appeal to my desire to mine the depths of the subconscious and dream states where all is possible. Where reality and surreality comingle and diverge. There are some images that I live with that surprise me with a "gift" every day and teach me further ways of "seeing" and interpreting all that unfolds before me.

I never would have imagined Breton's prophetic words converging onto our collective form of reality. A time that has arrived when one has to question the validity of an image or video and question it's ultimate intention. We are so inundated with imagery that most of us at this point probably succumb to cognitive dissonance, put our hands up in the air and scream, "Uncle!!"

Where does that leave us? To question everything presented to us, whether it be image or written words and begin to listen to our inner voice for absolute truth. It's always there for you when you "listen" and truly gaze. Andre Breton initiated a revolution of perception that began almost 100 years ago. We now have an opportunity to heed that call and respond. I am grateful for the lessons learned and lessons to come.
Lee Miller by Man Ray, circa 1929 -1930
Protesters demanding Florida businesses and government reopen, march in downtown Orlando, Fla., Friday, April 17, 2020. Small-government groups, supporters of President Donald Trump, anti-vaccine advocates, gun rights backers and supporters of right-wing causes have united behind a deep suspicion of efforts to shut down daily life to slow the spread of the coronavirus. (AP Photo/John Raoux)
_
from : David Raymond


to : Savage
date : 15/07/2020
Marc Donnadieu,
Curator in chief
Musée de l'Élysée, Lausanne



Like any work of art, photography is necessary for me.
Because it allows me to get out of myself, to understand and to understand better live the world around me. Art enlightens me and I need its clarity. The photography would have, it, as a specificity this tenacious impression in my eyes and my spirit that its author always affirms something of himself and of his relationship to the world in which he stands and where he has planted his device photographic. Photographer and photography belong and connect directly to the world. And this belonging and connection are particularly moving in each photograph, and this as much in the image that is given to us to see, that in the act itself of doing, of to produce, to realize that image, at that moment of time and of the world. From of all the arts, photography is the most "situated", it takes possession at the same time as it takes position. All that remains is to reflect this "taking of possession" and to take note of this "taking of position".

from : Marc Donnadieu


to : Savage
date : 24/06/2020
Rémi Coignet,
author, critic, editor
Because photography poses infinite questions

Because its meaning is unstable

Because it is a created an art object

Because, far from being dead, it is everywhere

Because it can be so many things: a work,

a document, a memory, an information

Because it can shift from one to the other of these categories

Because it is therefore an impure object

Because, in the best of cases, it can trigger an

emotion, an aesthetic reaction, therefore intellectual

Because I don't know of a satisfactory definition

Because, to quote Mishka Henner, Photography Is.

from : Rémi Coignet
to : Savage
date : 20/06/2020